What is 508 compliance?
Section 508 is a piece of US legislation that protects the right of people with disabilities to have equal access to electronic and information technology. Section 508 itself is an important amendment to the Rehabilitation Act of 1973, and further strengthens the Act with the specific aim of eliminating barriers in information technology, encouraging the development of new technologies that will help achieve these goals, and making available new opportunities for people with disabilities.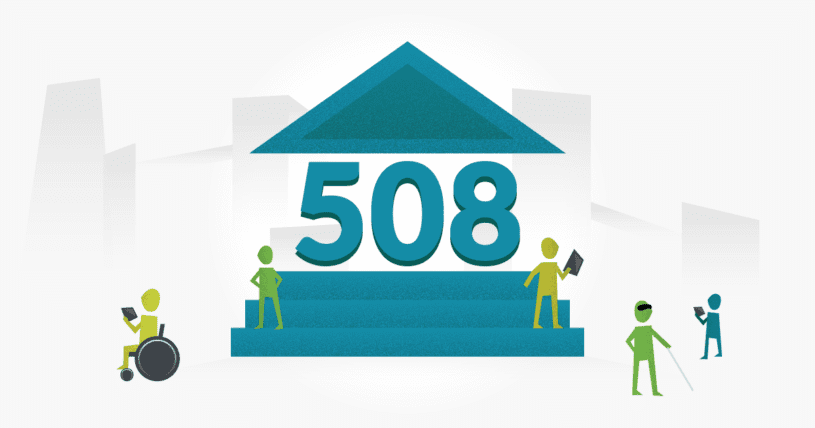 In short, Section 508 "…require[s] Federal agencies to make their electronic and information technology (EIT) accessible to people with disabilities." So, in order to be Section 508 compliant, we need to ensure everything digital and online that we produce is as accessible as possible.
Who needs to be compliant?
Legally, all federal agencies and any institution that receives federal funding, such as private contractors, are required to be 508 compliant and have 508 testing procedures in place. This includes:
Government agencies
Public K-12 schools
Public higher education institutions
Federally-funded non-profit organisations
Many non-governmental bodies, such as large companies have also voluntarily opted to become 508 compliant. So, if you are part of a federally-funded industry, or if your company has chosen to adopt these 508 compliance regulations, you are obliged to provide accessible IT to your users with disabilities.
Who is responsible?
Whilst there are no legal requirements to assign a designated role within an organisation to carry out and enforce 508 testing, it is good practice to instil a sense of responsibility throughout all levels, in all roles, across your organisation and to nurture a mindset of inclusive design to ensure accessibility is always considered.
What do you need to do?
In a nutshell, any and all digital communications that an organization falling under Section 508 jurisdiction creates, must be 508 compliant. This includes website content, emails, computer software, gaming systems, apps, and PDF versions of traditionally printed assets.
This may sound like an incredible undertaking, but a lot of the required guidelines are common sense, and many aspects of non-compliance may be remedied relatively easily. It is also helpful to break tasks down and focus on the various areas that require consideration. These include:
General visual checks
General code inspection
Keyboard navigation
Colour consideration
Images and their usage
Audio and visual
Pages containing forms
Dynamic content
As stated previously, many 508 compliance requirements are actually common sense, and most will be relatively easy to implement. Others, however, may require some rework and fundamental changes depending on the state of your current IT set up. Here are a few examples of things to consider when doing 508 compliance testing:
Can all text be resized up to 200% without degrading quality or understandability?
Is the order of navigational elements consistent across the site?
Is the default language of the page set?
Are all elements that can be operated by a mouse also able to be operated by keyboard?
Is information conveyed by methods other than color alone?
Are links distinguished by a method other than color?
Do all images conveying information have alt text that provide the same level of understanding a visual user would gain?
Do all audio-only or video-only (video without any sound) files have an accurate transcript or subtitles?
A comprehensive checklist for testing Section 508 compliance can be found at the hhs.gov website.
Summary
In essence, being 508 compliant and implementing 508 testing in your organisation is a positive way to make your digital products and information technology as accessible as possible. Section 508 itself is a series of checks and guidelines to ensure that every aspect of technology that a human interfaces with, has consideration for people with disabilities.
All creators of digital technology, whether federal employees, private corporations, or independent developers, should follow some form of accessibility guidelines to ensure they are producing experiences that can be accessed and enjoyed by all.